Tags:
Leadership Worth Sharing Blog
Are You Demonstrating the 'Right' Behaviors? . . . Do Others Agree?
Leadership Perception vs. Leadership Reality
The title of this blog deals with what I like to call 'honest' self-evaluation. If you're like most, you interpret this to mean a truthful introspection of what you're doing right and what you could do better. And, by all means, this is a necessary component of 'honest' self-evaluation.
But there's even a more powerful assessment component . . . and that's the opinion of others. Because folks, perception is reality! Especially when it comes to leadership, you, yourself, cannot solely determine whether or not you are a good leader.
You are only 'legitimized' as a leader when others, and especially, the key people you work with validate it, as well. Trust me, it's a hard pill to swallow if you believe you are hitting the mark but your peer group disagrees.
Here's the difference. We judge our leadership skills by our intentions. Everyone else assesses our leadership effectiveness by our behavior. Stated this way, you can see that leadership success is a highly subjective – and personal – evaluation based on what others see us doing . . . or not doing.
Your Actions Speak Louder Than Words
As Ralph Waldo Emerson once said, "What you are speaks so loudly, I can't hear what you are saying."
It's true. People judge you more by your actions than your words. They are looking to see if you, yourself, model what leadership is all about. And right, wrong, or indifferent, employees have naturally high expectations for their leaders.
Now, no leader is perfect in every area. But very good leaders know how to be 'healthy' in the RIGHT areas which I have conveniently addressed for you in the assessment below.
Healthy Leadership vs. Perfect Leadership 
The objective of this blog is to ensure you are 'healthy' in each and every area contained within this leadership assessment. Future blogs will go more in depth on each of these traits. But, for now, let's begin with your assessment.
Take the assessment for yourself . . . and be 100% honest. You can't grow otherwise.
Ask a trusted and respected peer to assess you as well . . . instruct them to be 100% honest. Again, you can't grow otherwise.
Compare and analyze the assessments . . . look for points of validation and potential gaps. Great job on the validation points but prioritize the gaps!
How to address gaps . . . First of all, everyone has gaps! Remember, no leader is perfect! The key is to determine if these gaps are real or perceived 'impediments' – or barriers – to others. If they are, address them ASAP because unresolved impediments will quickly become other people's problems. And, you do NOT want to be known as someone else's problem! HOWEVER, If your leadership gap is NOT an impediment, then determine if it's a priority for you and your organization. Remember, it's not about 'perfect leadership.' It's about 'healthy leadership.'
Assess How Your Leadership Actions Measure Up
View this assessment as a personal growth experience. So Enjoy continuing to refine your leadership skill sets! And here's to being a 'Healthy Leader!'
As always, feel free to reach out to me with questions or discussion.
Leadership Assessment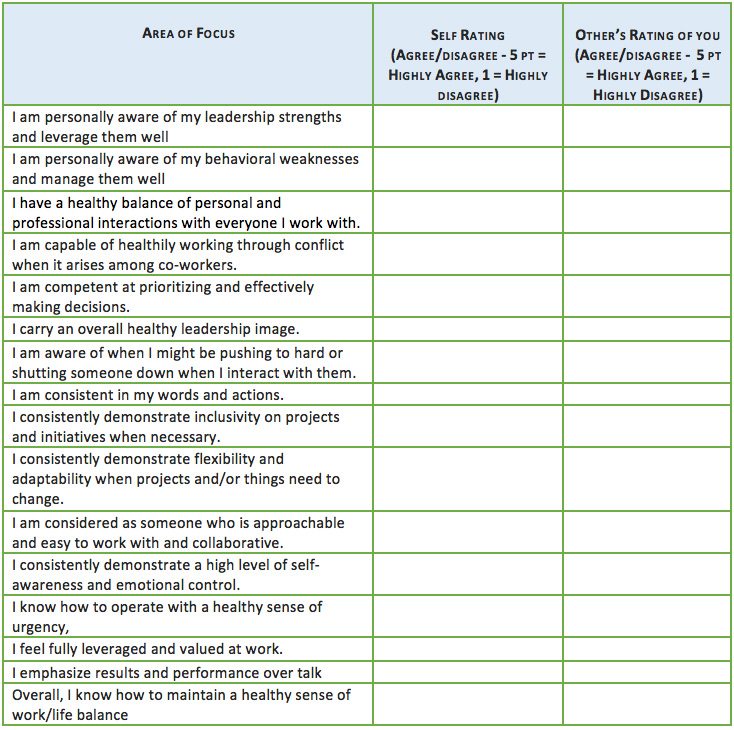 Check Out These Upcoming Events from The Rubi Ho Group
Become a SAOL™ Certified Coach & Consultant
2018 Classroom Dates
March 18 – 24, 2018
June 3 – June 9, 2018
Blue Ash, OH
SAOL Executive Coaching for Managers
2018 Classroom Dates
Catered to Your Schedule & Location
About Rubi Ho
Rubi Ho and SAOL™ Coaching and Consulting is ALL about helping Organizations, Teams and Leaders drive and optimize convergence, alignment and performance throughout a company! He and the SAOL Coach and Consultants do this by being experts at resolving issues pertaining to strategy, leadership, performance and overall alignment and helping leaders become their 'Highest Selves!'