Tags:
Leadership
,
Leadership Worth Sharing Blog
,
Situational Leadership
I like to say that 'Business never stops for leadership, but failed leadership will stop business in its tracks.'   Case in point and torn from recent headlines . . . Uber, Ralph Lauren, and Ford, ALL removing their CEO's due to failed leadership!
Let's face it. There is never a perfect time for a leadership tune-up but today's highly competitive and cutthroat environment demands 24/7 on point leadership . . . or risk removal or, worse yet, company demise.
Now, I'm not writing this blog to scare you. But I am writing it to 'wake you up.' If you are not embracing constant change and agility, you are sinking in today's environment.
In a 2016 study of 1000 executives across industry, 43% of the C-suite believe leadership development is a main driver of business results. However, in the same study, 44% characterize leadership development in their organization as poor while 54% describe it as ineffective. Talk about disconnects!
Here's the bottom line, it's up to YOU to grow your leadership development. More than ever, it's critical to frequently size up how you're doing on the leadership front. I'm not saying that you need to attend programs, seminars or webinars every month, but you DO need to continuously tweak your leadership approaches to adapt to the ever-changing competitive landscape.
Here's how to get started using what I call the 5 Key Strategic Leadership Areas of Focus . . . with the minimum goal of being 'healthy' in every area.
Tune-Up in These 5 Key Strategic Leadership Areas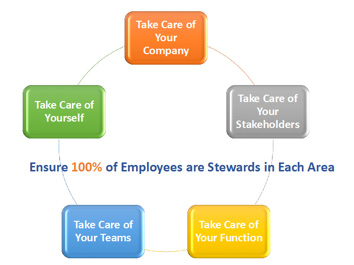 As I'm coaching and consulting with leaders and teams, I stress the following 5 areas with a minimum goal of being healthy in every area. This is a valuable tune-up exercise that should be conducted as frequently as you feel it's necessary to meet the challenges ahead of you.
How Well Are You Taking Care of Your Company?
To 'take care' of your company, you need to know what your company cares about. Do you know your company's Mission, Vision, Key Strategic Initiatives? More importantly, do you know how you contribute to these vital elements? 
I don't care if you're the janitor or the CEO, your role contributes to your company's success or failure – all objectively measured by growth, profit and efficiencies.
'Company' Tune-up Actions Items for You: 
Revisit and embrace your Company's Mission, Vision and Strategic Initiatives for this year and beyond.
Ensure your roles, responsibilities and contribution align with at least one of the strategic initiatives.
Set up time with your manager and calibrate. You will NOT be wasting their time with this request. Remember, their success is based on YOUR success. 
How Well Are You Taking Care of Your Stakeholders?
Your Stakeholders are truly your 'pulse on the street,' and are comprised of both internal and external individuals. Externally, stakeholders are your customers, your suppliers, and even your board. Internally, your stakeholders are primarily your business partners and/or peers. Your team(s) will be covered in another section.
The strategic importance of stakeholders is best illustrated with this visual . . . You're at the top of Mt. Everest, sustaining, 100 mph winds and sub-zero temperatures. Your stakeholders comprise the 'stakes' of your tent which is protecting you. If any of these 'stakes' let go or break, your entire tent risks obliteration placing you and others in peril. I think that sums up the importance of stakeholders!
So do you have a healthy relationship with your stakeholders? Are they happy with your service? How are you perceived? Do they feel you understand their needs and vice versa?
'Stakeholder' Tune-up Actions Items for You: 
Go on a 'mini-road' tour and conduct your bi-annual one-on-ones with your stakeholders
Work through any/all issues you might have with your stakeholders that are impeding them from seeing you as a 'strong business partner'
Do ONE thing that can 'boost' a more positive relationship with your stakeholders
How well are you taking care of your Function/Job?
When was the last time you looked at your job responsibilities and really challenged them? Are there areas of your function that fundamentally need to grow based on changing business needs or focus? Are there areas of your function that need to be optimized? Which area of your job responsibility seems to be a 'leaky bucket,' and just not hitting the mark anymore? What are you doing to make your function better in order to be more prepared for the upcoming future?
When looking at your role, size up what adds legitimate value and what is there for the 'sake of doing it.' This proactive approach is a far better alternative to a reactive approach where the company redefines – or eliminates – your role for you.
'Function/Job' Tune-up Actions Items for You: 
Give your Function/Area of Job Responsibility an overall grade in terms of

Overall contribution
Service to your consumer
Efficiencies
Sustainability
Growth

Determine where the gaps are and address
How well are you taking care of your Team(s)?
Taking care of a team is about both team performance and developing positive relationships with your team members. No one, and I do mean no one, wants to work with crabby people! They also don't want to be part of a 'losing team!' So, do people like working for you? Do people like working with you? If the answer is 'no,' put a sense of urgency on making it right!
I 100% agree with Peter Drucker who says, 'culture eats strategy for lunch.' An A+ strategy with an unhealthy team will result in F+ delivery! Work on building a healthy team. You are either part of the solution or a victim of it. Either way, it's on you.
'Team' Tune-up Actions Items for you:
Conduct a team check in and find out how your team is feeling about

The team energy overall
You
Their contribution
The sense of team comradery

Work through the gaps, together 
How well are you taking care of YOU? 
I have 2 simple challenges on the 'taking care of YOU' front when I am working with leaders: 
Don't be perceived as an impediment across the organization
Make sure you feel more 'fulfilled' in your role than 'empty'
You don't have to have a perfect leadership brand. You just have to be perceived 'healthily' across the organization. Are you trusted? Do people like you overall? Are you seen as someone who is easy to work with? Or do people tend to avoid you? Ouch!
On the 2nd challenge, the paycheck can only go so far in creating overall satisfaction in your life. Yes, 'taking care of your family' is a good reason to be in a job but it won't keep your 'creative juices flowing.' And it will show in your demeanor, attitude and performance. Bottom-line, make a change before the company makes the change for you!
'You' Tune-up Actions Items:
Have one-on-one's with people you respect. Ask them to provide honest feedback on how you are perceived in the organization.
Apply the discipline needed to close the gaps. If needed, seek external help.
Did that Tune-Up Feel More Like an Engine Re-Build?
Folks, true 'leadership development' is tough! Just like your car, it needs scheduled maintenance or it will break down. Apply the discipline NOW for your leadership tune-up while things are still 'running,' and you'll be back on top of your game before you know it!
SAOL™ Transformational Leadership
Each article comes from SAOL, The Rubi Ho Group's exclusive leadership methodology known as Strategic, Agile, Organizational Leadership. Its' proven framework offers a common-sense approach to driving synergy, alignment and performance within leaders, teams and organizations.
Share This Blog with Others 🙂
If you found this information helpful, please be sure to share it with a friend by clicking on the envelope button below. Better yet, encourage them to sign up to receive the next blog by sending them the link http://therubihogroup.com/category/leadership-worth-sharing-blog/
Warmest Regards,
Rubi